Duty
Nhem En, working as a photographer under the direction of superintendant Kaing Guek Eav (Duch), took portraits of men, women, and children processed into the S21/Tuol Sleng prison, where virtually all of the approximately 14,000 inmates were interrogated, tortured, and killed.
"I was 9 when they gave me a drum. We sang and marched,
A children's band that toured the villages before I took pictures.
'Oh, Angka, we deeply love you, We resolve to follow your red way . . .'
I beat my drum and the cadre smiled when he took our picture.
Duch liked me. I'm clean and I filed the photos well.
He gave me a Rolex watch. If I'd lost a picture
I would have been killed. (Later, when I ran, I traded the watch
for rice.) I was following orders when I took the pictures.
I was 16. She had full lips, black hair, dark eyes. I pinned the number
To the front of her shirt, number 21. It was my duty to take the picture.
One had a name—she was someone's wife—with a tiny baby
In the crook of her arm. What was my duty? I took the picture."
I peer through the gaze of his lens. They seem to stare at me now,
But then they saw him, a teenage boy who took their pictures.
Later the screams from inner rooms. For three years—
Communal breakfast, then new arrivals, the taking of pictures.
"They arrived in blindfolds. I had to remove the cloth. 'Where am I?'
They asked, and 'What have I done?' Preparing to take the picture,
I only told them, 'Look straight ahead. Don't lean your head
To the left or right.' I had to say this so the picture
Would turn out right." He pointed the camera, adjusted the lights.
"The duty of the photographer is just to take the picture."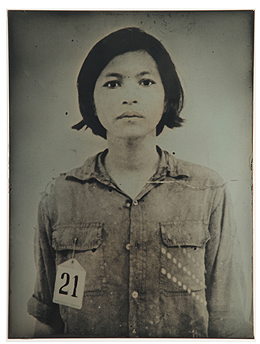 Ancestral Altar, No.16
Up from its ground the water
Climbs beneath dry bark
Out from stiff buds the new leaves press
When the Earth tilts
From crowded graves the dead surge
We see them now
In the flesh of leaves
Their faces rise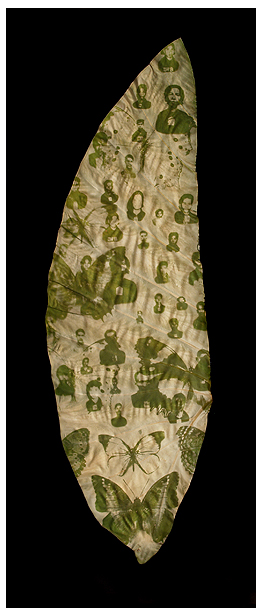 Flowers of the field
Children peer from nasturtium leaves,
cheek, nose, eye or temple marked
by the spot where the stem attached.
"A single blow fissured glass
and marked my face with its one
blemish. This nasturtium leaf, new
in spring, is the pane through which
I peer at you."
What shall I cry?
All flesh is grass; it passes away
with the flowers of the field.
The word alone or an image abides,
our meeting place—this one
new leaf arisen.
Artworks by Binh Danh
by permission of the artist
with "Duty"
(left)
Ghost of Tuol Sleng Genocide Museum, 2008
Daguerreotype (from the portrait by Khmer Rouge photographer Nhem En)
11.375 x 9.5 inches
(right)
Ghost of Tuol Sleng Genocide Museum #2, 2008
Daguerreotype (from the portrait by Khmer Rouge photographer Nhem En)
11 x 9 inches
with "Ancestral Altar, No. 16"
Ancestral Altar #16
Chlorophyll print and resin
16 x 10 inches
with "Flowers of the Field"
Memories of Tuol Sleng Genocide Museum #1, 2008
Chlorophyll prints and resin
12 x 10 inches

---

Robert Schultz's books include two collections of poetry, Vein Along the Fault and Winter in Eden, a novel, The Madhouse Nudes, and a work of nonfiction, We Were Pirates: A Torpedoman's Pacific War. His poems, essays, and fiction have appeared widely in journals, textbooks, and anthologies, and he has received a National Endowment for the Arts Literature Award, Cornell University's Corson Bishop Poetry Prize, and, from The Virginia Quarterly Review, the Emily Clark Balch Prize for Poetry. A native Iowan, he attended Luther College and completed MFA, MA, and PhD degrees at Cornell University. In 1985 he returned to Luther, where he taught for nineteen years. He has also taught at Cornell and at the University of Virginia. Since 2004 he has been the John P. Fishwick Professor at Roanoke College in Salem, Virginia. (www.robertschultz.us)
Binh Danh's work is in the permanent collections of such museums as the Corcoran Art Gallery, The National Gallery of Art, The Philadelphia Museum of Art, the George Eastman House, and many others. His work investigates his Vietnamese heritage and our collective memory of war, both in Viet Nam and Cambodia, as it explores the themes of mortality, memory, history, landscape, justice, evidence, and spirituality. His technique incorporates his invention of the chlorophyll printing process, in which photographic images are developed in leaves through the action of photosynthesis. His newer body of work focuses on the Daguerreotype process. He received his MFA from Stanford University in 2004 and is represented by the Haines Gallery in San Francisco, California, and the Lisa Sette Gallery in Scottsdale, Arizona. Beginning this Fall he is Assistant Professor of Art at the Herberger Institute for Design and the Arts, Arizona State University. (www.binhdanh.com)