In Memoriam
From Maureen Curran, her eulogy for Michael Robins:
It is difficult to condense a lifetime into a few minutes, but I will endeavor to do that. Born in Chicago, an only child, Michael Robins graduated from the University of Chicago at 19 and later studied philosophy at Columbia University and the New School and law at the University of Chicago. But ultimately his restless spirit called him to the open road and a life of adventure. Michael was a multi-faceted person. Some of you know him as art dealer, as trader, as traveler, or as an aficionado of music, an audiophile, a scholar of literature and poetry, or a damn good poker player. I believe you all know him as a friend.
As his partner of 25 years, wife for 17 of those years, I knew him as all those things, as well as whistler, teacher, lover, and, in Gurdjieff's words "house holder, one who is a good steward." He was also a breaker of rules, not the law, but the "Please don't walk on the grass" kind of rules. On a trip to Chichen Itza, Mexico, as the guards were ushering everyone out of the site, he grabbed my hand and off we went to the Observatory, climbed to the room at the top and sat down. He wanted to watch the sun go down as ancient people had, and he lit up a joint to enhance the experience. Having been educated in Catholic schools all my life, rule breaking was alarming, and I feared the guards would appear and haul us out of there. But they didn't, and it was a very cool experience, one of many because of his fearlessness.
This week, in preparing, I spent time in what Michael coined "the music room," and touched many of his books. He had so many interests, and numerous books on, of course, pre-Columbian, Chinese, African and contemporary art but also politics, music and musicians, eclipses, religion, Edgar Cayce, and the great authors. I left his chair as it was the last time he sat there surrounded by his beloved books.
You may not know, in his heart, he was a writer. He wanted to pursue writing as a young man, but, as John Lennon said, "Life is what happens while you are busy making other plans." Michael was a solitary man by nature, and with the soul of a writer had always quietly observed the world around him and the human dilemma. He believed in the yin/yang of life, where there was calm there was also chaos, where there was good there was also bad and where there was joy, sorrow. He was not judgmental of people, wasn't a gossip, enjoyed being praised, but didn't ask for it. He had a graceful way of being in the world, an economy of spirit, not a glad-hander, or life-of-the-party guy. He didn't enjoy small talk but could add some pithy phrases to a conversation, invited or not, and was always genuine in his discourse.
As a gift from Michael I offer you some of his poems, as a remembrance of him and of his time here.
I was very privileged to know and love Michael and to share the last third of his fascinating life and his noble death.
—Maureen Curran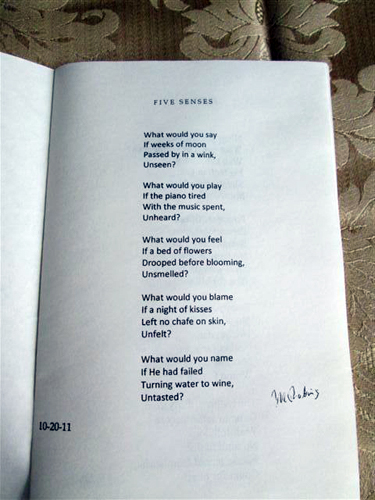 Five Senses
What would you say
If weeks of moon
Passed by in a wink,
Unseen?
What would you play
If the piano tired
With the music spent,
Unheard?
What would you feel
If a bed of flowers
Drooped before blooming,
Unsmelled?
What would you blame
If a night of kisses
Left no chafe on skin,
Unfelt?
What would you name
If He had failed
Turning water to wine,
Untasted?
10/20/11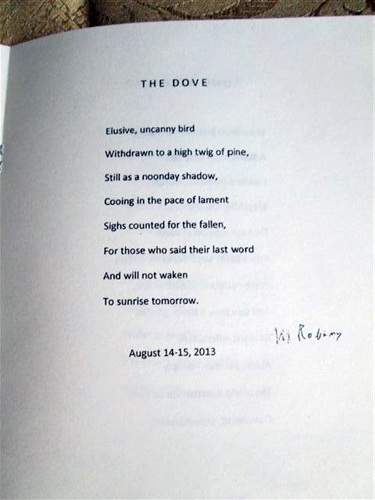 The Dove
Elusive, uncanny bird

Withdrawn to a high twig of pine,

Still as a noonday shadow,

Cooing in the pace of lament

Sighs counted for the fallen,

For those who said their last word

And will not waken

To sunrise tomorrow.

August 14-15, 2013
From the Heart
Just for Maureen
When I took your hand
It was to give you my heart.
You believed it a jewel
And did not yet know
How flawed a thing it was,
Bruised from years of sparring with mind.
In the raking light of living
You soon spotted the cracks.
It took years of repair, but
Mind and heart, relentless
Adversaries of my soul,
Quit their tussle, shook hands.
You gave my heart back to me, whole.
Chartres was our metaphor,
Disparate spires rising above
A structure of power and faith.
I will die and be no more,
But not my love. Keep it for me.

---